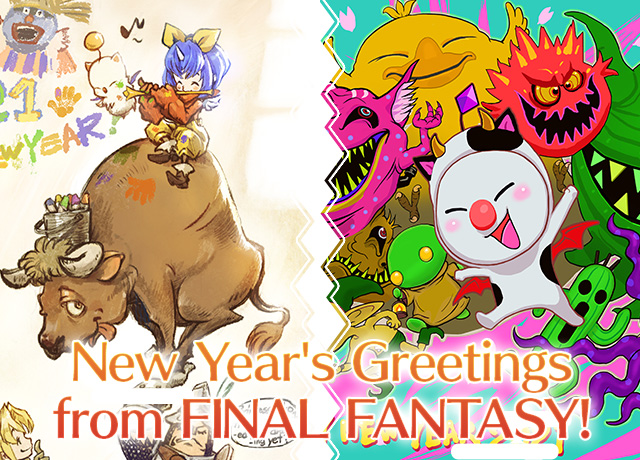 Happy New Year!!
From all the FINAL FANTASY staff, we hope 2021 brings you much happiness and enjoyment.
We'd also like to present a couple illustrations celebrating the start of the new year and greetings from some of the creators of FINAL FANTASY!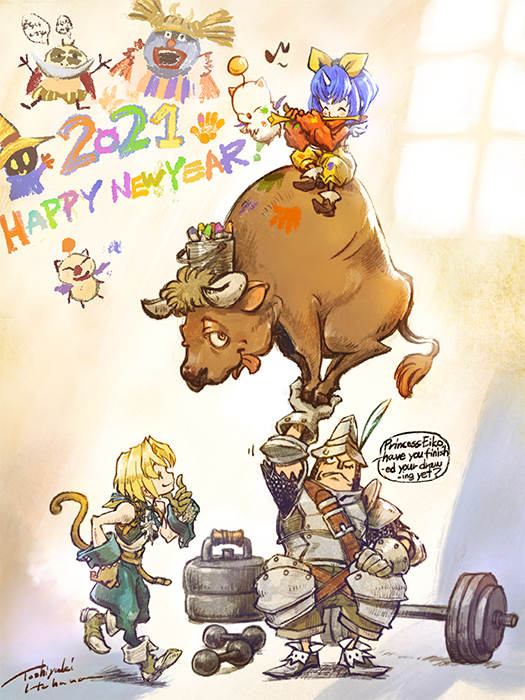 Illustration: Toshiyuki Itahana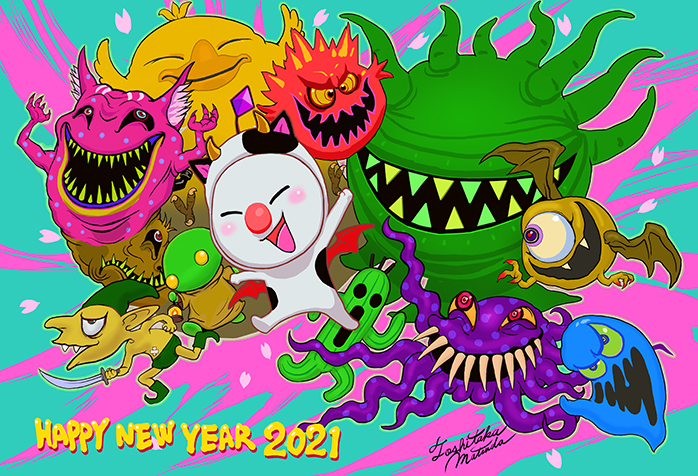 Illustration: Toshitaka Matsuda
-----------------------------
Hello, this is FF Brand Manager Shinji Hashimoto. Happy New Year!
2020 was an especially difficult year, and for that very reason we will do our best to create worlds full of adventures and dreams for you to enjoy.
As we enter the new year, the FF staff is going to continue challenging ourselves to provide fresh experiences. Please look forward to new developments in FINAL FANTASY in 2021 as well!
FINAL FANTASY Brand Manager
Shinji Hashimoto
-----------------------------
I am so incredibly thankful that FINAL FANTASY VII REMAKE was played by so many people. Our teams are hard at work right now so that further developments will live up to the passion you all show.
Please look forward to the ever-expanding world of FFVII!
FINAL FANTASY VII REMAKE Producer
Yoshinori Kitase
-----------------------------
Thank you very much to all FF fans for your support over the last year!
It's thanks to fans like you across the world that FFXIV is as successful as it is, now coming up on its 11th year from the original version's start.
In 2021 we're aiming to bring you even bigger surprises, deeper emotionally moving stories, and more amazing adventures. First and foremost, don't miss the FINAL FANTASY XIV Announcement Showcase in February!
We're also planning to continue releasing more information about FFXVI this year.
What is the main character Clive like, and what about the battle system?
Please keep supporting us as we continue to work on FFXIV, and also look forward to new developments pertaining to FFXVI!!
FINAL FANTASY XIV Producer and Director
FINAL FANTASY XVI Producer
Naoki Yoshida
-----------------------------
Well everyone, a lot happened last year. I suppose every year has its happenings, but even so, 2020 seemed like one big lump of unexpected circumstances. It brings me great joy to be able to greet you all in this way despite how things have been of late.
There's no way I could have made it through 2020 without the support of the people around me, that's for sure. More than anything I'd just like to give my deepest thanks to everyone – both game industry folks inside and outside of Square Enix, and of course all of the fans. Thank you!!
Moving on to this year...
Our teams will continue to bring you FFRK, DFFOO and the like, while also prepping everything involved in creating new titles like NEO: The World Ends with You.
Okay, I shouldn't really ramble on too much - there are producers other than myself in our teams, after all. I'll just state that I hope you have high expectations for the work our fresh young creators are doing! I'm confident they will deliver wonderful titles this year.
FINAL FANTASY Record Keeper Producer
Ichiro Hazama
-----------------------------
I say this at the beginning of every year, but in 2021 I'd like to take a mentality of pushing forward, keeping existing titles interesting and finding new ways to innovate.
FFBE has reached its 6th year, and series title WAR OF THE VISIONS FFBE is now in its 2nd year. We'd like to see both titles through to their 10th anniversaries, maintaining what makes them fun while pursuing new ways they can be enjoyed as well.
I hope we can continue delivering even better game experiences and will strive to bring new developments to FFBE!
FFBE Series Producer
Kei Hirono
-----------------------------
We hope you'll continue to enjoy both the FINAL FANTASY series and the FINAL FANTASY Portal site and app this year as well!
© 2021 SQUARE ENIX CO., LTD. All Rights Reserved.
Illustration: Toshiyuki Itahana Illustration: Toshitaka Matsuda