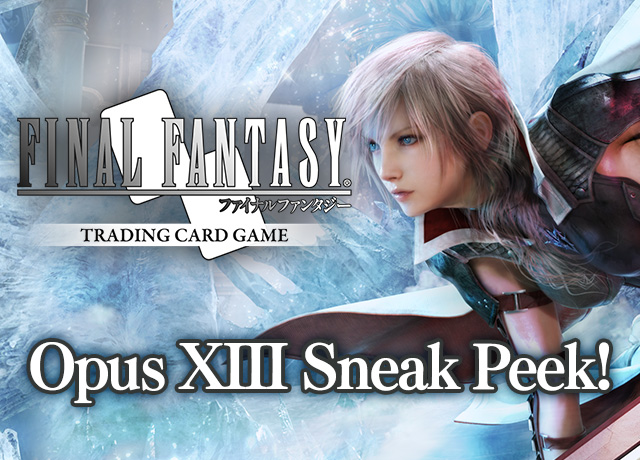 FINAL FANTASY TRADING CARD GAME, abbreviated FFTCG, is played all around the world.
We're excited to bring you an FF Portal-exclusive sneak peek of two cards from the newest FFTCG set, Opus XIII: Crystal Radiance, which will be released on March 26th!
Once again, we bring you new card introductions from FFTCG producer Taro Kageyama and comments on their art from the illustrators who drew them!
A Sneak Peek at Opus XIII: Crystal Radiance
Hello, everyone. FINAL FANTASY TRADING CARD GAME producer Taro Kageyama here. I've once again been given the opportunity to introduce upcoming cards on the FF Portal, so I've chosen two illustrated cards to share with you. This time I'll be talking about the cards for the Summon Alexander (from FINAL FANTASY EXPLORERS), illustrated by Mr. Gen Kobayashi, and Llednar (from FINAL FANTASY TACTICS ADVANCE), illustrated by Mr. Ryoma Ito. Let's jump right into looking at the cards. We'll begin with Alexander.
Alexander [13-053R]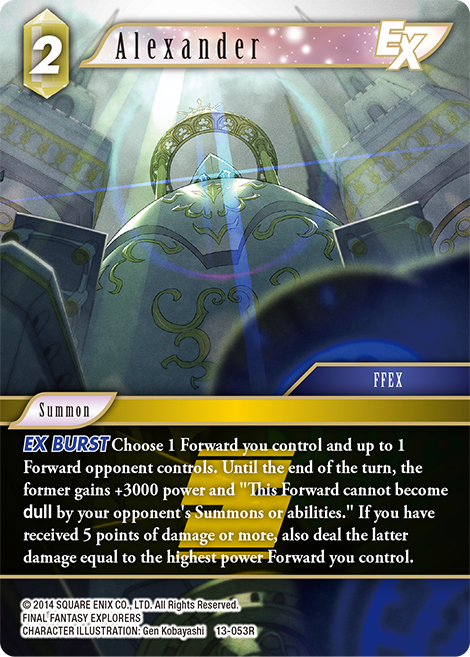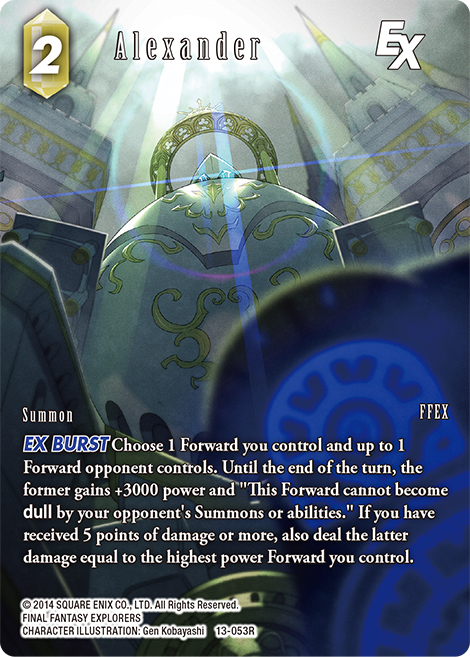 Upon completion, what most surprised me about this illustration was its composition. The design gives an impression of looking up from below, and it eloquently expresses just how gigantic Alexander is. The view from the bottom of Alexander's feet makes you feel as if they're about to come stomping down on top of you, making for a very impactful image. The sense of action and motion in this card also conveys a sense of story, so it's an exciting item not only as part of the game but to add to one's collection as well.
This card's ability gives +3000 power to one of your own Forwards, and also prevents that Forward from becoming dull via your opponents' Summons or abilities. I think this would be pretty average as a Forward-strengthening ability if that were all it could do. However, if you've taken 5 points of damage or more, it also becomes a card that can do some intense damage to one of your opponent's Forwards. On top of the effects of the ability I just mentioned, you can also do damage to one of your opponent's Forwards equal to the power held by your own strongest Forward. I'm sure this card will be of great use in the final stages of a match.
【Comment from Illustrator Gen Kobayashi】
In FINAL FANTASY EXPLORERS eidolons are opponents, which means that Alexander also appears as something you must defeat. In that game, Alexander is just simply enormous, and the sheer sense of heavy bulk that this huge boulder-like creature's attacks give still stands out in my mind. While drawing this illustration, I intended to portray the intense power and impressiveness that I felt facing this massive opponent in the game.
I would be very happy if the way this illustration portrays looking up at Alexander from below gives you a sense of the eidolon's scale.
Llednar [13-108L]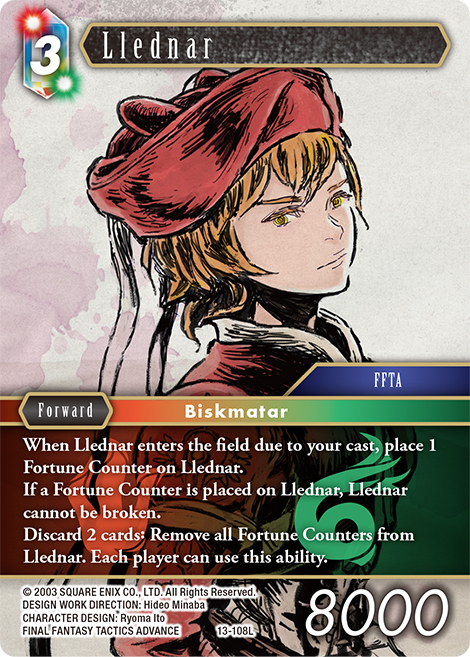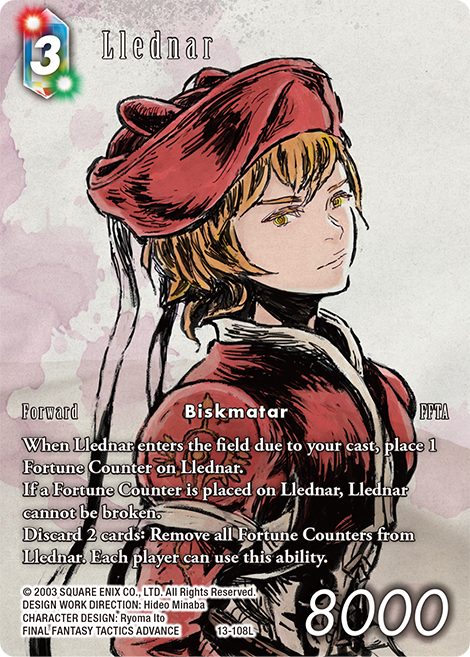 The other card I'm presenting today is Llednar [13-108L], with an illustration by Ryoma Ito. Mr. Ito always pushes himself by trying an ambitious variety of tastes in his illustrations for us. This time he's adopted a portrait style, with a relaxed impression that makes the piece feel somewhat vague and distant. The full art looks especially nice, and I'm sure even people who didn't play this character's game will want to add this to their collections.
Now, let's take a quick look at this card's abilities. It was designed with two elements, Fire and Wind, to be faithful to the original game. In FINAL FANTASY TACTICS ADVANCE, there is a law protecting Llednar called Fortune that makes him invincible as long as it is in effect. In FFTCG, this is implemented as a type of Counter, and Llednar cannot be broken as long as the Fortune Counter is placed upon him. An opponent is able to remove this status, but as that requires the hefty cost of discarding two cards from one's hand, I don't think that will happen too easily.
【Comment from Illustrator Ryoma Ito】
It had been such a long time since I'd drawn Llednar, so this was a trip down memory lane for me. Actually, during the development of FINAL FANTASY TACTICS ADVANCE, most characters got the OK with no retakes, but I redrew Marche and Llednar specifically multiple times. Lots of old memories came back to me as I illustrated this card. Llednar is a character I'm especially fond of.
As with previous FFTCG illustrations I challenged myself to draw this card in a new way―pen-and-ink with watercolor style―at the request of Mr. Matsuyama, who oversees FFTCG. First I did the coloring with real watercolors, which I then transferred to digital before adding the final touches. It was a really interesting process. I hope you all like this card and illustration!
Thank you, Mr. Kageyama!
Opus XIII: Crystal Radiance is planned for release on March 26th!
What is FFTCG?
FFTCG is a one-on-one tactical card game featuring FINAL FANTASY characters and summons. Not only is there fun in collecting cards featuring familiar faces, the main draw of the game is the simplicity of the rules combined with the complexity of the gameplay. The art drawn for the game by famed illustrators is also a popular aspect of FFTCG!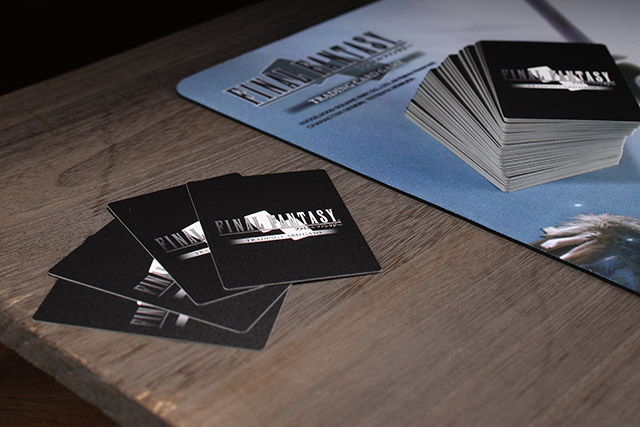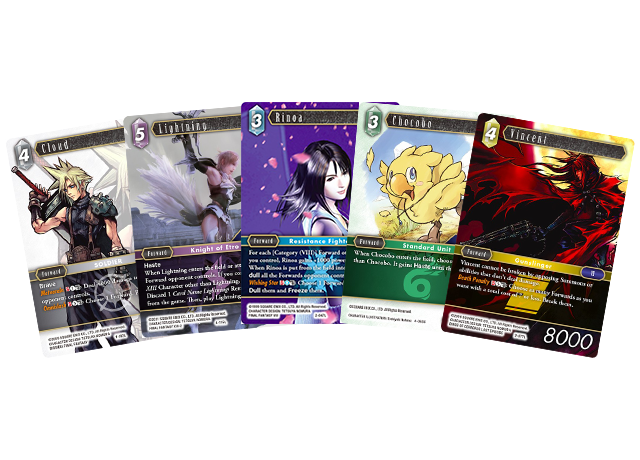 Play the FFTCG tutorial:
https://sqex.to/FinalFantasyTCG