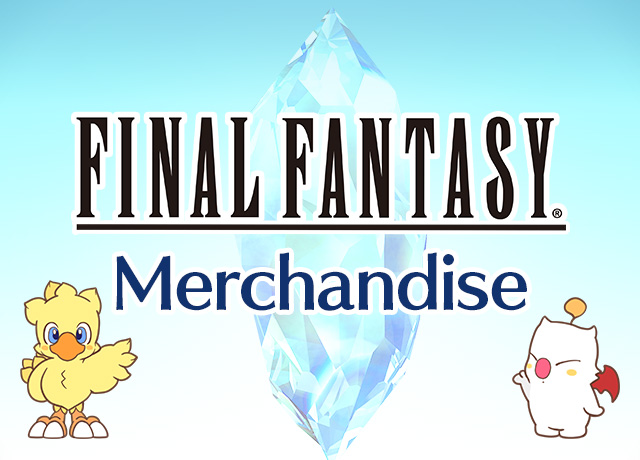 Today marks FINAL FANTASY XV's 5th anniversary! In commemoration, we've gathered a selection of FFXV goods from the SQUARE ENIX e-STORE! Spruce up your room with an FFXV figurine or get some tunes from around Eos for when you go on your own road trips!
*Includes some pre-order items.
◆FINAL FANTASY XV: PLAY ARTS KAI - Lunafreya Nux Fleuret
Lunafreya Nox Fleuret, the heroine of FINAL FANTASY XV and betrothed of Noctis.
Her courageous and determined visage speaks of her great personal gravitas as an oracle capable of conversing with the gods, and also as head of house Fleuret, the ruling dynasty of the nation of Tenebrae.
The mermaid line on the figure's dress further emphasises Lunafreya's beauty, while great care has been paid to recreating and colouring the fine details, such as her elegant hair style and the Trident of the Oracle she carries.
The shoulder joints use a new kind of articulated component, allowing for smoother, more realistic movement. The set also includes a number of alternative hands, allowing for a wide variety of expressive poses to recreate situations from the game.
Fully painted PVC action figure
Details
Packaging specs: Windowed package with front flap.
Includes special Play Arts figure stand
SRP: €114.99
◆FINAL FANTASY XV: PLAY ARTS KAI - Gladiolus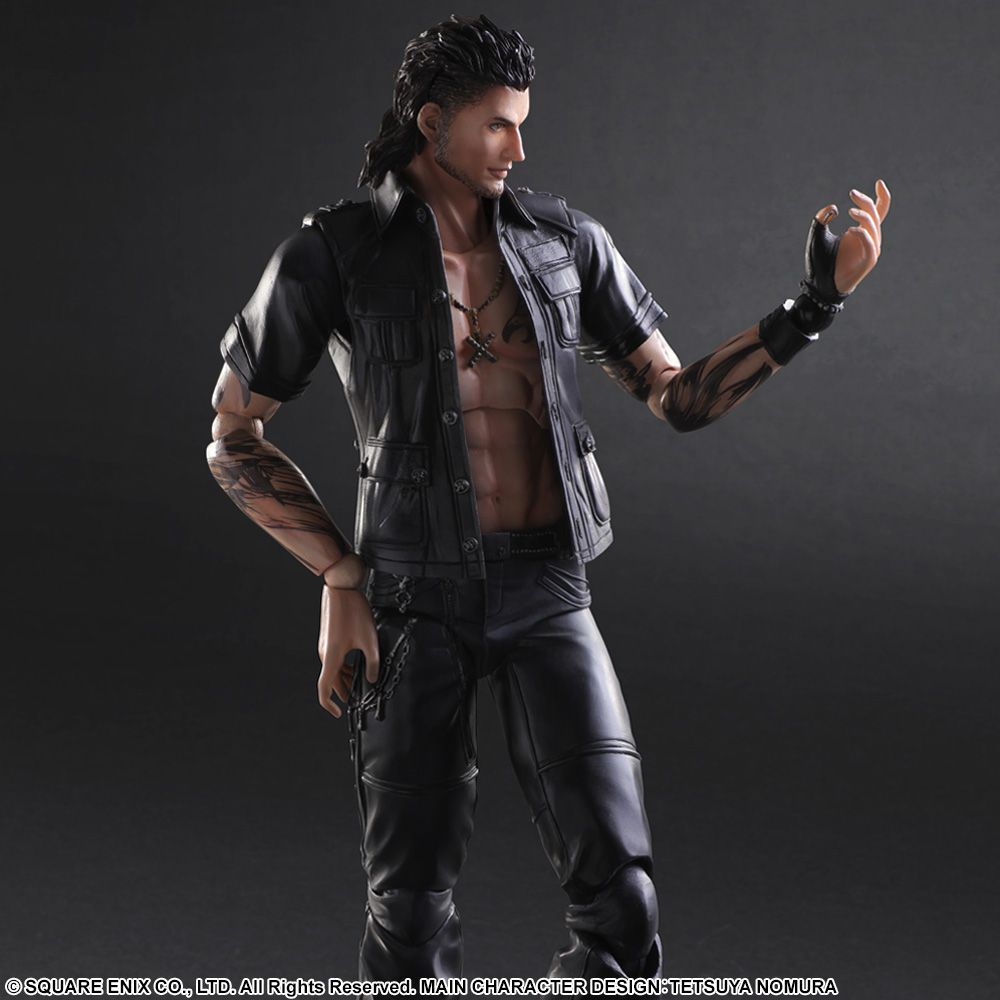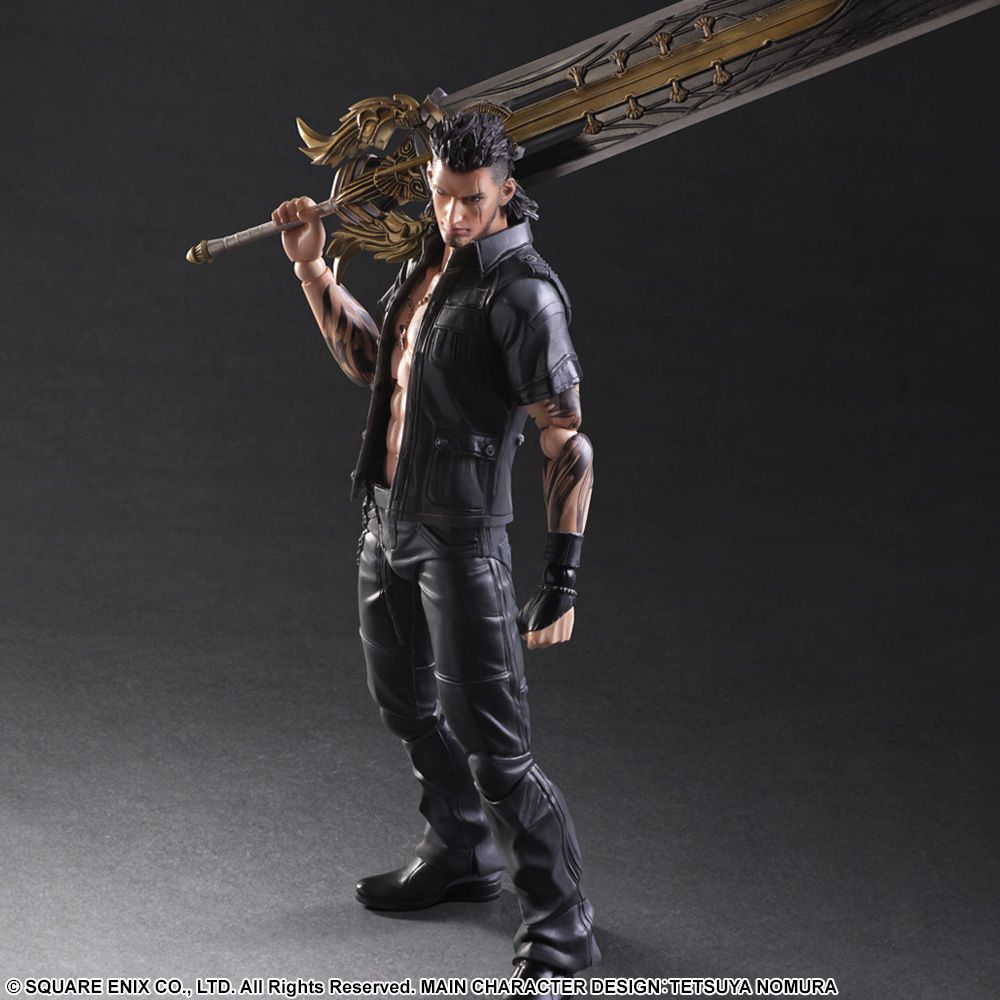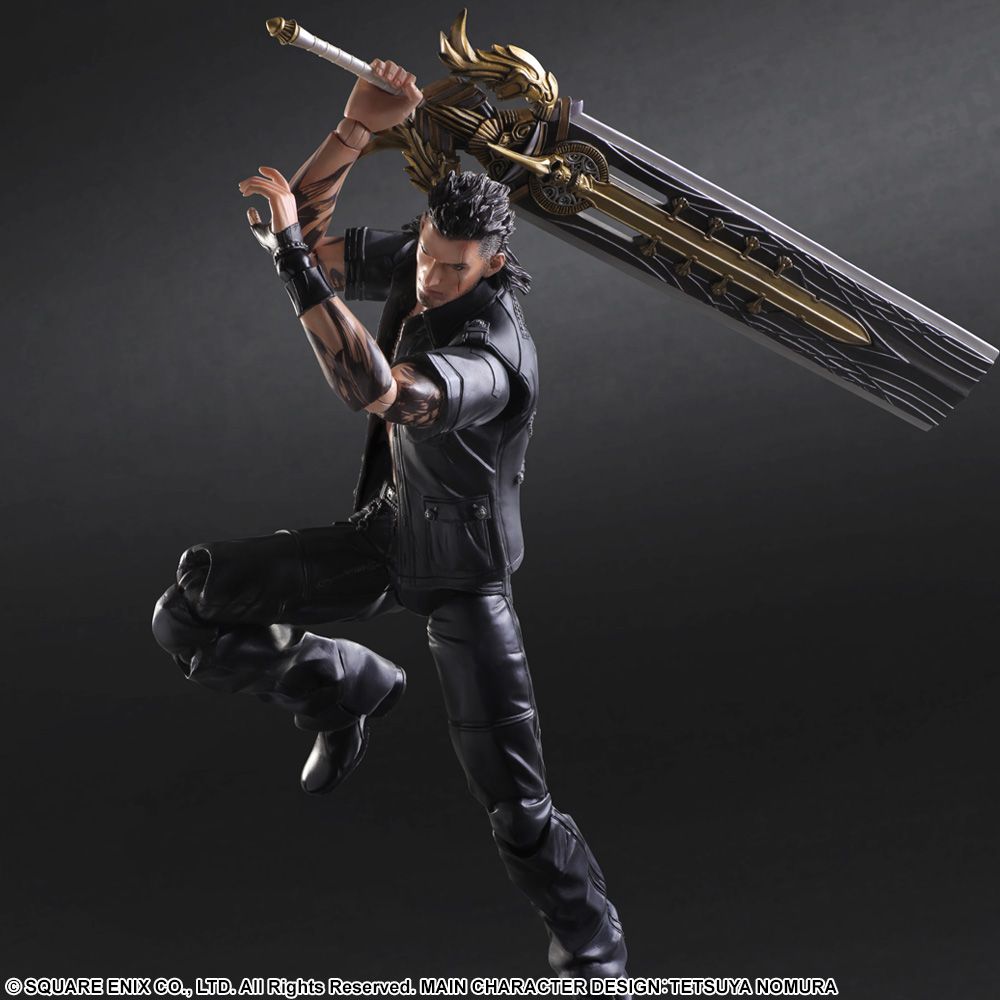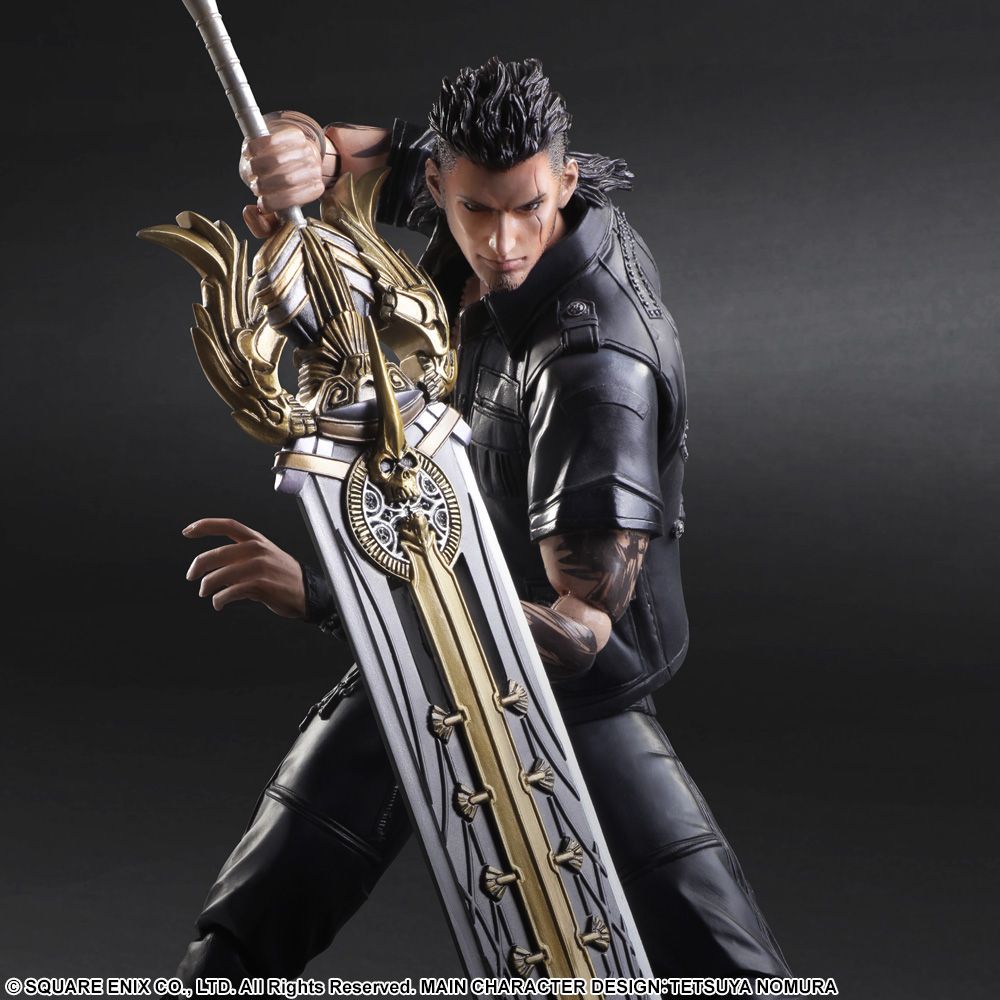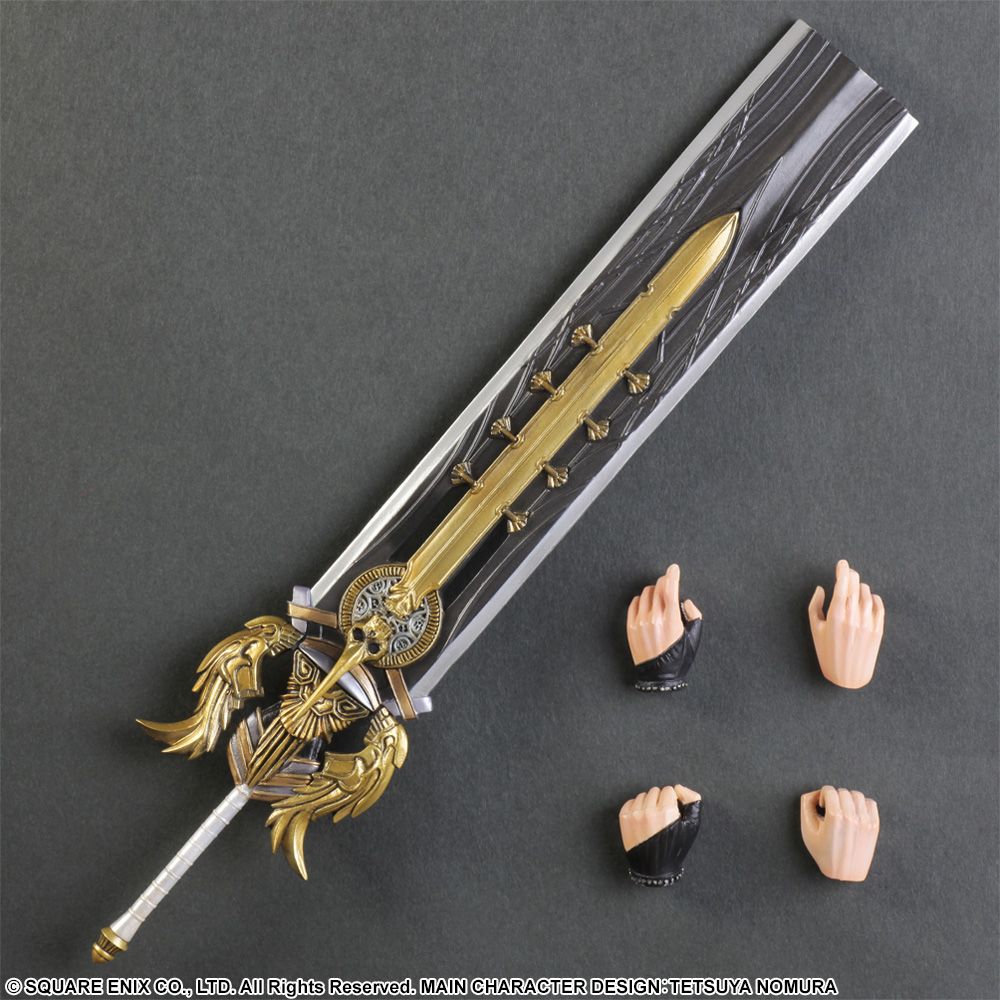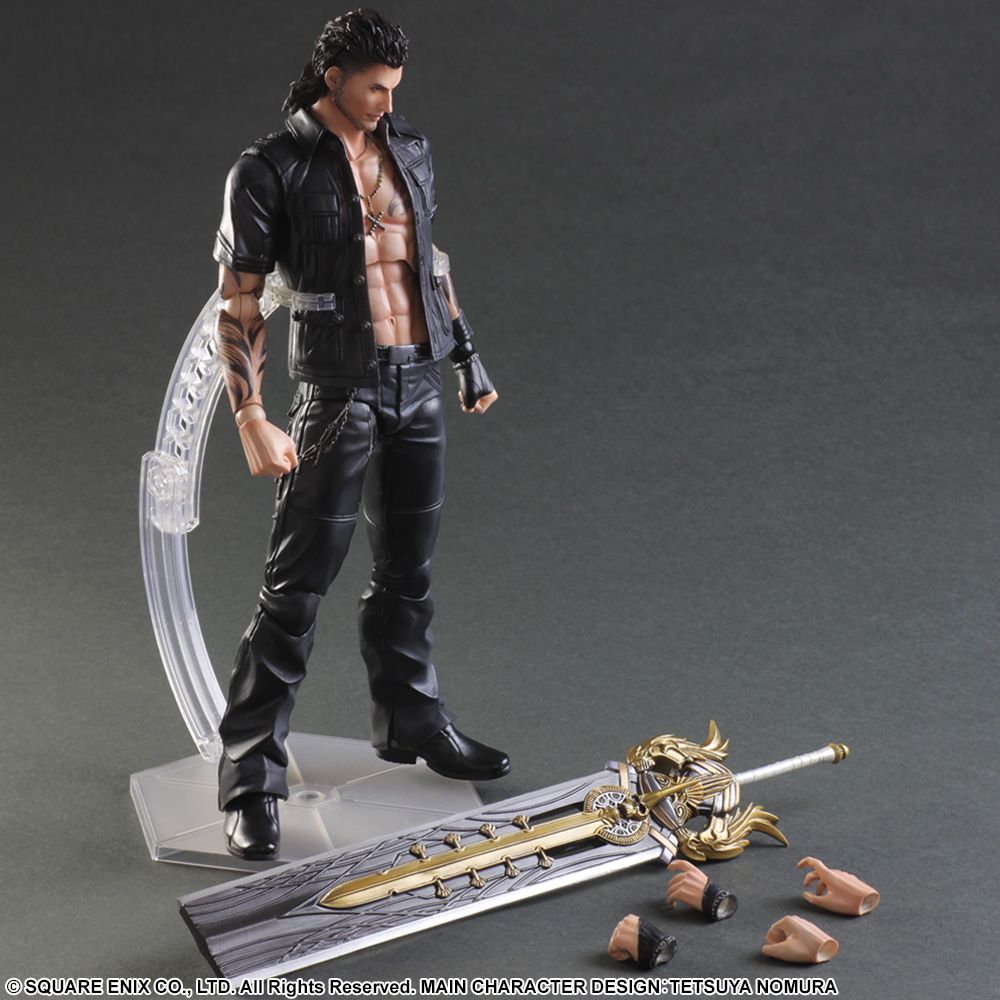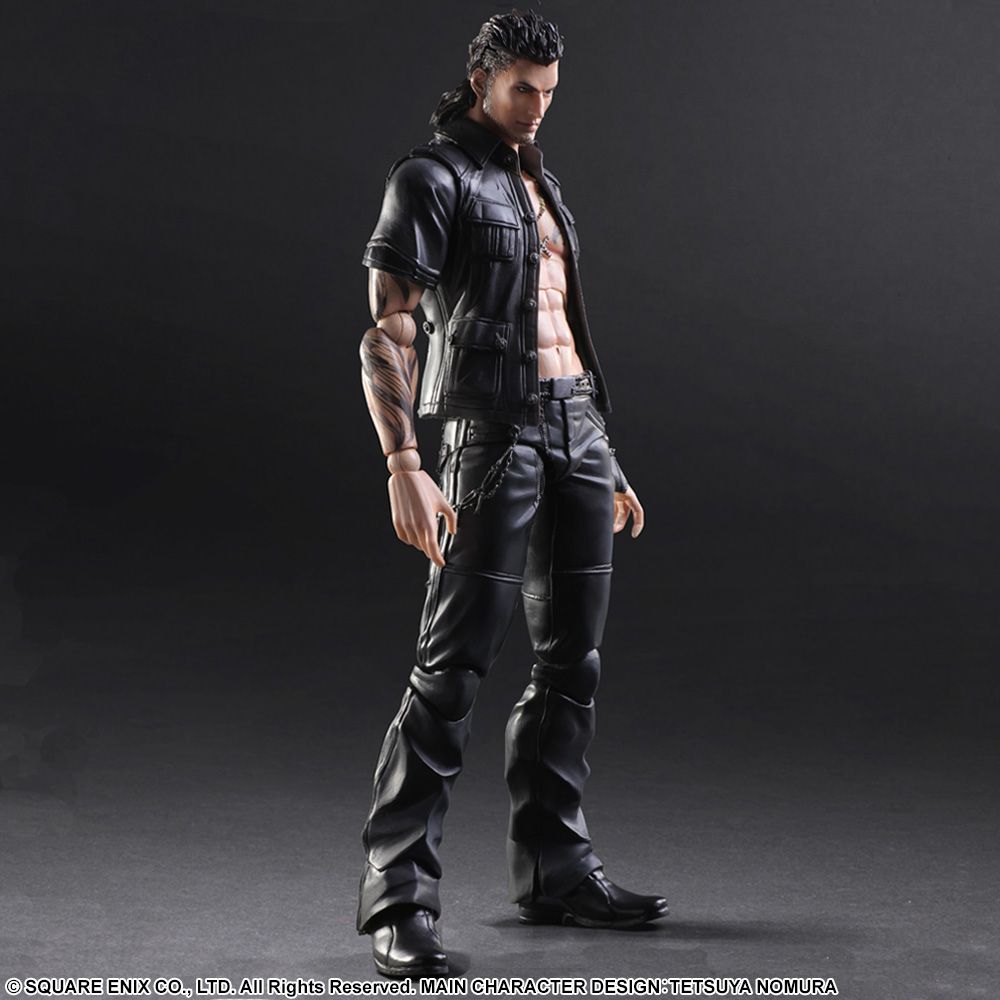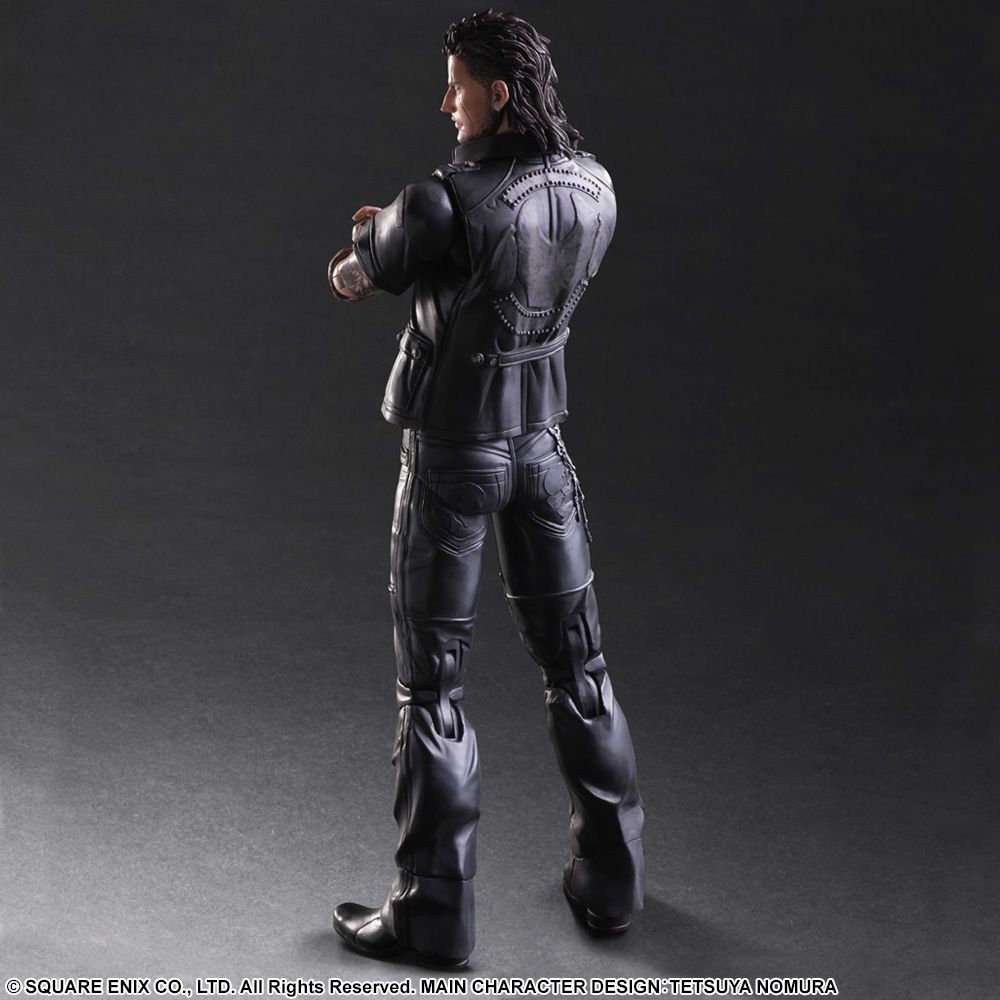 Gladiolus Amicitia, trained as the protector of the Lucian royal family.
This figure recreates Gladiolus' imposingly muscled body in full detail, taking special care with the articulation to allow posing that fits with the character perfectly. The figure has also been meticulously coloured to thoroughly capture even the finest details, such as the face, the stitching and details of his clothing and his tattoos. Gladio's signature weapon, an imposing greatsword, is also included, perfect for recreating his heroic image from the game.
Fully-painted and articulated PVC action figure
Package: window box with flap
PLAY ARTS KAI Display Stand included in package
Details
Dimensions: W 105mm x D 55mm x H 295mm
Weight: 450g
SRP: €119.99
◆KINGSGLAIVE: FINAL FANTASY XV PLAY ARTS KAI - Nyx Ulric
The magical kingdom of Lucis is home to the sacred Crystal, and the menacing empire of Niflheim is determined to steal it. King Regis of Lucis commands an elite force of soldiers called the Kingsglaive. Wielding their king's magic, Nyx and his fellow soldiers fight to protect Lucis. Saved by King Regis as a child, Nyx repays the debt by serving the Kingsglaive with distinction. His unique ability to wield the King's magic and his epic exploits in combat have earned him the moniker of "hero" among his peers.
Details
Dimensions: 90mm × 50mm × H 270mm approx.
Approx Weight: 320g
SRP: €134.99
◆FINAL FANTASY XV Original Soundtrack Limited Edition (Blu-Ray Disc Music)
This deluxe box set includes many bonuses for the collectors:
・ Bonus 1: Bonus tracks only available in the limited edition!
Theme song "Stand by Me" (Florence + the Machine) / Behind-the-scenes of the Boston recording session, among others.
・ Bonus 2: Bonus Disc / Car Stereo (Blu-ray disc)
Another Blu-ray disc soundtrack containing all the music the main characters listen to on the stereo of their beloved car, the Regalia. Contains over 250 masterpieces from the FF series! Historically, this will be the biggest Blu-ray soundtrack the company has ever released in terms of total runtime and track number!
・ Bonus 3: Bonus Disc / Piano Arrangement (CD)
Several tracks from the game rearranged for piano in this special CD.
・ Bonus 4: Special Booklet
A beautiful booklet featuring Yoshitaka Amano's "BIG BANG" artwork on the cover and including liner notes as well as a round table discussion with main composer Yoko Shimomura and members of the music production team! (Japanese text only)
* Please note that this soundtrack is not a CD. A Blu-Ray disc player is required.
* Owners of a Blu-Ray-compatible drive will be able to retrieve mp3 versions of all the tracks. (FFXV soundtrack only)
Details
SRP: €89.99
◆Piano Collections: FINAL FANTASY XV
FINAL FANTASY XV is the latest instalment in the world-renowned RPG series, FINAL FANTASY.
The music from the game has also received high praise and can now be enjoyed as piano arrangements which have been well-received by both game and FINAL FANTASY fans alike!
Yoko Shimomura, the main composer of FINAL FANTASY XV, has returned to produce this album, carefully selecting songs best suited as piano pieces and supervising the entire production!
When composing songs, Shimomura is always mindful of the piano melodies which are further refined in these beautiful arrangements.
A true work of art that touches the heart beyond the gaming experience, please look forward to this composition of musical masterpieces only one dreams of hearing on the piano!
Some tracks available on soundtrack (not in specific order):
・Somnus
・Valse di Fantastica
・Veiled in Black
・APOCALYPSIS NOCTIS
・OMNIS LACRIMA
・Sorrow Without Solace
・NOCTIS
・LUNA
・Stand Your Ground
・Starlit Waltz
And More...
Details
SRP: €17.99
Did you find anything you just couldn't live without? There are plenty of other FINAL FANTASY goods on the SQUARE ENIX e-STORE as well!